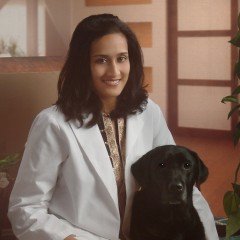 Vindhya Cianelli, DVM, CVA
Dr. Cianelli received her Bachelor of Science degree in Biology from the University of Michigan in 1998 and was awarded her Doctor of Veterinary Medicine degree at Kansas State University College of Veterinary Medicine in 2002. She then completed an internship in small animal medicine and surgery in Springfield, Massachusetts, and has been practicing veterinary medicine in New Hampshire since 2003.
Dr. Cianelli has been practicing emergency medicine, surgery, and general practice for several years in New Hampshire. During this time, she discovered a passion for alternative medicine. She pursued certification in Veterinary Acupuncture at the renowned Chi Institute of Traditional Chinese Veterinary Medicine in Gainsville, FL. She believes that integrating her knowledge of conventional and holistic medicine provides the best possible therapy for her patients.
Dr. Cianelli has extensive experience in Acupuncture, Chinese Herbal Therapy, Food Therapy, and Reiki. She has special interests in musculoskeletal injuries, arthritis/weakness, cancer, skin problems, allergies, and palliative therapies. She has recently implemented essential oil therapy into her practice and has seen impressive results. Dr. Cianelli is a member of the American Veterinary Medical Association, the American Holistic Veterinary Medical Association, and the American Association of Traditional Chinese Veterinary Medicine.
Holistic Animal Wellness, Dr. Vindhya Cianelli PLLC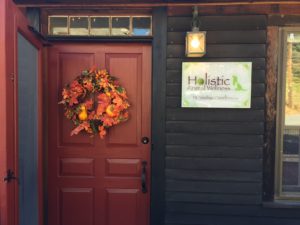 Dr. Cianelli opened Holistic Animal Wellness in 2015 at the center of New Boston, New Hampshire.  Holistic Animal Wellness is privately owned and strictly provides holistic veterinary care to dogs and cats in a very peaceful home-like setting.  Dr. Cianelli has had much success in treating many types of common ailments and diseases by promoting the pet's natural ability to heal itself.  These include arthritis, disk diseases, general pain, allergies, skin problems, paralysis, kidney and heart disease, GI disorders, urinary problems, cancer, behavioral problems, autoimmune disorders, diabetes, and more. In most cases the pets quality of life was greatly improved even in cases where conventional medicine and surgery failed.  Please visit Dr. Cianelli's Facebook page to see the many 5 star reviews.
Recent Visitors